Parmentier is a medium dice cut, it can be made in the same way as the Large Dice (Carré), except with smaller measurements, and as macedoine(Small dice) except with larger measurements.
Parmentier cut uses: It could be used in soups, stews, chopped salads, and hearty sauces.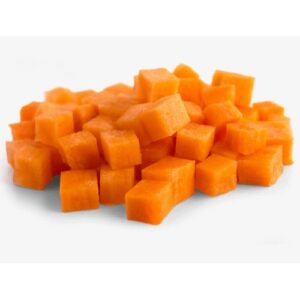 Parmentier(Medium dice) cut of carrot
Size of Parmentier cut
First, cut into 1/2 inches slices, turn and slice again into 1/2 inches slices, now from the top slice 1/2 inches (13 mm) cubes.
How to cut Parmentier style
First, we need to wash and peel the vegetables,
regularize its shape into a rectangle or square by topping and tailing it and squaring off the sides.
Now depending on the cut, slice the veg into required lengths.
Then cut it into long pieces, then cut each of those pieces into 13 mm (1/2 inches) thick slices.
Stack those slices, then cut them lengthwise into 13 mm (1/2 inches) wide sticks.
Then stack the sticks about three to four high, and using your knuckles as a guide for the blade of the knife, slowly and deliberately slice off pieces 13 mm (1/2 inches) wide.
Watch the video of Parmentier cut of potato