Definition:  Vermouth is an aromatize and fortified wine, flavored with about 50 different ingredients which include wormwood, quinine, citrus peels, roots, flowers, and herbs,, and sometimes colored, it deriving its name from the German word wermut, meaning "wormwood".
Vermouth was first marketed as a medicine for its therapeutic and digestive properties. It is now served as an aperitif and also used in the preparation of cocktails. Of all the aromatized wines, vermouth is very popular.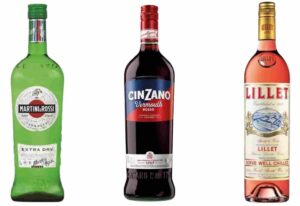 Marseille in France and Turin in Italy are well known for vermouth production. In general, Italian vermouth refers to sweet and red vermouth, and French vermouth refers to dry and white vermouth though both countries make all styles of vermouth.
The alcoholic content of vermouth is 15% to 18%  ABV
Types of vermouth
There are four basic types of vermouth 
Dry vermouth:  It is termed French vermouth. Produced from dry white wine, flavored, and fortified. light yellow to gold in color.
Sweet vermouth: It is also known as Italian vermouth. Reddish-brown in color, sweet taste, and made from white wine, flavored, colored with caramel.
Bianco: It is straw-colored, sweet vermouth, sweetened with mistelle or sugar.
Rose vermouth: It is less sweet than Bianco and colored with caramel.
Production of vermouth
To produce vermouth, the following ingredients are required
Young wine of ordinary quality

Mistelle (mixture of unfermented grape juice and brandy)

Flavoring agents — Macerated of infused in alcohol
The steps of vermouth production
The ordinary wine of two or three years in mixed with mistelle

Flavoring ingredients infused or macerated in alcohol

The wine mixture is blended thoroughly in large tanks

It is then fined, filtered, and pasteurized

Then it is refrigerated to crystallize any remaining tartrates and to collect at the bottom of the tank

vermouth is now allowed to rest for a short while before bottling
Vermouth is drunk young as it dose not mature in the bottle
Brands of vermouth
Dry
Martini
Chambery
Torella
Cinzano
Noilly prat
Sweet
Cinzano Red
Martini Bianco
Martini Rosso
Cinzano Bianco
Martini Rose
Noilly Prat Red
Bitter-sweet
Service of vermouth
Pour a 3 out measure of chilled vermouth in a Paris goblet and serve with ice, soda water, tonic water, or lemonade.
Vermouth is serve as an aperitif. Americans prefer vermouth before the meal. It is also used in many cocktail preparations. A slice of lemon is used as a garnish for dry cocktails and cherry or sweet cocktails.
Food pairing
Dry vermouths are paired well with funky cheeses while sweet vermouths compliment dry, salty cheeses like pecorino. Dry vermouth can also be used in place of white wine when cooking.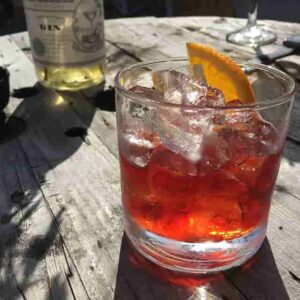 Negroni –  A vermouth cocktail
Vermouth cocktails
Martini: It is a popular cocktail, made with gin and dry vermouth.
Manhattan: It is a whisky cocktail, that combines dry and sweet vermouth to make the perfect Manhattan.
Negroni: Negroni is an Italian cocktail, made with sweet vermouth, and gin.
Americano: Made with Campari, sweet vermouth, club soda, and garnished with a slice of lemon.
Martinez Cocktail: It is a classic cocktail made with Gin, Sweet vermouth, Maraschino liqueur, and Angostura bitters.
Boulevardier Cocktail: Boulevardier cocktail made with, Rye or bourbon whiskey, Sweet vermouth, Campari
Recommended reading: The ultimate liqueur guide, meaning, service of liqueur