Whisky is a spirit distilled from grain by pot still or parent still method. The grain used may be barley, maze rye, wheat, or a mixture of grain in varying proportions.
By law, scotch whisky means whisky that has been distilled at a distillery in Scotland from malted barley to which whole grain of other cereals may be added.
There are two main types of scotch — malt and grain.
Malt:  Malt whisky is made from malted barley and then double-distilled in a pot still.
Grain: Grain whisky is made chiefly from corn or wheat with a small percentage of barley and barley malt and distilled in a patent still.
These two are further classified into four types.– Single malt, vatted malts, blended whisky, single grain. The types of scotch whisky are as follows:
1. Single malt scotch whisky
Single malt is the malt whisky from one distillery. It may be a mix of malt whiskies produced in different years. In that case, the age statement on the label reveals the age of the youngest malt in the mix. High-end single malt is considered a high-end Scotch, and only about ten percent of scotch whisky is single malt.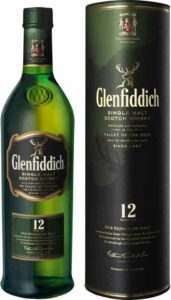 "Glenfiddich" a single malt whisky
Brands of single-malt scotch whisky
Glenfiddich
The Glenlivet
Glen Garioch
Highland park
Bowmore
Cardhu Aberlour
Knockando
Glen Grant
Glenmorangie
For More: 21 Best single malt scotch whisky brands
2. Vatted malts or Blended malts
Vatted malts is a blend of malt whiskies from different distilleries in Scotland. It is also called pure malt or malt whisky. It is one of the least common types of Scotch: a blend of single malts from more than one distillery (possibly with differing ages).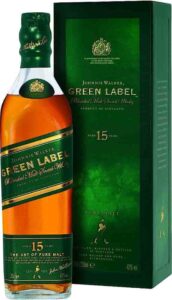 "Johnnie Walker Green Label" a vatted malts
This type must not contain grain whiskies and is distinguished by the absence of the word
"single"
on the bottle. The age of the vat is that of the youngest of the original ingredients. For example, a blended malt marked "8 years old" may include older whiskies, with the youngest constituent being eight years old.
Johnnie Walker Green Label
and
Monkey Shoulder
are examples of blended malt whisky.
3. Blended scotch whisky
Blended whisky is a mix of malt and grain whiskies. Most of the scotch sold in the market is blended scotch. The proportion of malt to grain whisky is between 20 and 40 percent. The cheaper blend will have a higher percentage of grain whisky. A typical blend may have 15-40 different malt whiskies and 2-3 grain whiskies.
Each malt whisky does and each has its own flavor profile. The blender must ensure that the individual aroma does not dominate the other in the blend. The flavors of all the whiskies must be well-integrated. The blender must maintain a flavor consistency different from the blended whisky.

"Dewar's" a blended scotch whisky
Brands of blended scotch whisky
Johnnie Walke Red
Ballantine's
Dewar's
Grant's
Cutty Sark
Chivas Regal
White Horse
Black & White
J&B Rare
Johnnie Walker Blue
4. Single-grain scotch whisky
Single grain is grain whisky from a single distillery, whisky is scotch distilled at a single distillery but in addition to water and malted barley, may involve whole grain of other malted or unmalted cereals.
Single grain does not mean that only a single type of grain is used to produce the whisky produced rather single grain refers only produce to the use of a single distillery It is usually aged for a long time.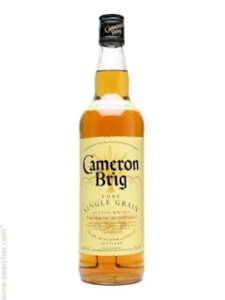 "Cameron Brig" a single grain scotch whisky
Brands of single-grain scotch whisky
Cameron Brig
Loch Lomond Peated
Lowland single grain
Spearhead Single Grain
4 main types of scotch whisky with brands PDF download