Beer is an alcoholic drink obtained from a fermented brew of barley malt. the average alcoholic strength of beer is 4 percent. Excluding tea & coffee, beer is probably the most commonly consumed drink and the globe's first and most popular alcoholic beverage.
There are hundreds of breweries in the world, each making different types of beer. We have listed some of the best beer brands around the world
1. Corona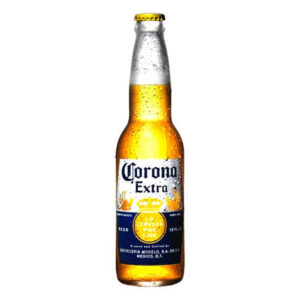 Corona is a brand of beer produced by Mexican brewery Cervecería Modelo and owned by Belgian company AB InBev. It is the top-selling brand of imported beer in the United States. Corona is the remedy when you are searching for a new & crispy summer beer.
Corona beer is often served with a wedge of lime or lemon in the neck of the bottle to add tartness and flavor. The brand's most popular variation is Corona Extra, a pale lager. It is one of the top-selling beers worldwide
Country of origin: Mexico
Style: Pale Lager
Available variants
Corona Light ABV 3.7%
Corona Premier ABV 4%
Corona Familiar. ABV4.8%
Corona Extra  ABV 4.5%
Know more about Corona
2. Bira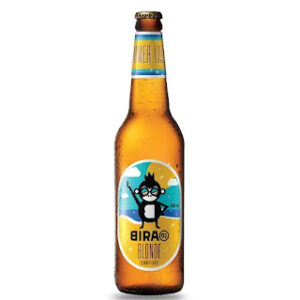 Bira 91 is an Indian craft beer brand owned by B9 Beverages Pvt. Ltd., launched in 2015. It has many variants, Bira light is a light-bodied beer that is paired with a light meal any time of the day. Bira white is a wheat beer with light bitterness and a soft finish. Bira blonde is a lager beer that is rich in color.
Region: India
Alcohol by volume: 4.9% to 7%
Available variants
Bira 91 White ABV 4.7%
Bira 91 Blonde 4.5%
Bira 91 Light ABV 4%
Bira 91 Strong, ABV 7%
Bira 91 Bira Boom  ABV 6% to 8%
Know more about Bira
3. Pilsner Urquell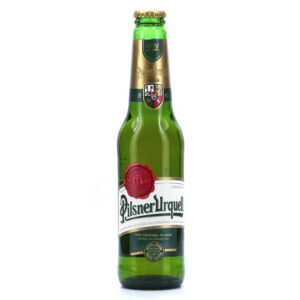 Pilsner Urquell is a lager beer brewed by the Pilsner Urquell Brewery in Plzeň (German name: Pilsen).
Pilsner Urquell was first introduced In 1842, at our brewery in Plzeň, Brewer Josef Groll introduced the world to the first golden 'pilsner' lager and hanged beer forever. Pilsner Urquell was the world's first pale lager. Pilsner Urquell's signature flavor balances the sweetness from the triple-decocted malt, and bitterness from our Saaz hops.
The secret behind the taste of this legendary bottom-fermented lager with an alcohol content of 4.4% lies mainly in its premium quality ingredients along with the preservation of the original production process.
Alcohol by volume: 4.4%
Region: Pilsen, Czech Republic
Style: Lager
Know more about Plisner Urquell
4. Budweiser
Budweiser is an American-style pale lager beer brand, produced by Anheuser-Busch, part of AB InBev. It was introduced in 1876 by Carl Conrad & Co. of St. Louis, Missour. Budweiser beer is a medium-bodied, American-style lager beer. Brewed with high-quality barley malt, a blend of premium hop varieties, fresh rice, and filtered water, this American beer is crisp and full of flavor.
Country of origin: United States
Available variants
Budweiser: Budweiser is a medium-bodied, flavorful, crisp American-style lager. Brewed with the best barley malt and a blend of premium hop varieties,  5%Alcohol by volume.
Budweiser Supreme: Triple-filtered and brewed with American honey malt.
Budweiser Select: It's a light beer for people who love beer full of flavor and refreshment 4.3%Alcohol by volume.
Budweiser Select 55: Select 55 is a golden lager made with caramel malts and a blend of imported and domestic hops. Brewed to complement the full flavor of Select but with only 55 calories 2.4%Alcohol by volume.
Budweiser Chelada: It has the crisp smooth taste of an American Lager, the Rich spicy flavor of Clamato, and a hint of lime.
5. Foster's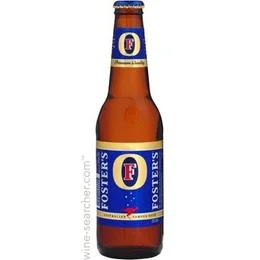 Foster's is an Australian beer brand produced by Foster's Group Pty. Ltd. Foster's was founded in 1888 in Melbourne, Victoria by two American brothers, who sold the brewery a year later.
Country of origin: Australia
Available variants
Foster's premium ale: 

Foster's ale is a copper color that delivers a rich, earthy beer-drinking experience with a smooth caramel finish. 

5.5% Alcohol by volume
Foster's lager:

Foster's lager is a bright golden color that delivers a refreshing beer-drinking experience with a crisp, clean hop finish.

5% Alcohol by volume
Read more about Foster's
6. Heineken
Heineken is a pale lager beer produced by the Dutch brewing company Heineken N.V. Heineken lager contains three main ingredients: barley, hops, and water. the first Heineken brand beer was brewed. In 1875 Heineken won the Medaille d'Or at the International Maritime Exposition in Paris, then began to be shipped there regularly, after which Heineken sales topped 64,000 hectolitres (1.7 million U.S. gallons), making them the biggest beer exporter to France.
Available variants
Heineken original
Heineken 0.0
Style: Pale lager
Country of origin: Netherlands
Alcohol by volume:
5.0%
7. Carlsberg
Carlsberg is the flagship beer brand in Carlsberg Group's portfolio of 155 brands. It is a 5% ABV pilsner beer (3.8% in the UK and is branded as Carlsberg Danish Pilsner with a global distribution to 140 markets. It is also known as Carlsberg Lager, Carlsberg Beer and Carlsberg Pilsner. It was first brewed in 1904 and was created by Carl Jacobsen, son of Carlsberg's founder JC Jacobsen.
Country of origin: Denmark
Available variants
Carlsberg
Beer Type: European Pale Lager
ABV: 5%
Carlsberg 0.0%
Beer Type: Alcohol-Free
ABV: 0%
Carlsberg 1883Beer Type:
European Lager
ABV:
4.6%
Carlsberg 47
Beer Type: Seasonal Brews, Bock
ABV: 7%
Carlsberg ElephantBeer Type:
Bock
ABV:
7.2%
Carlsberg Elephant Extra Strong
Beer Type: Strong Pilsner
ABV: 10.5%
Carlsberg Expørt
Beer Type: Pilsner
ABV: 4.8%
Carlsberg Light
Beer Type: Light pilsner
ABV: 3.2%
Carlsberg Non-alcoholic
Beer Type: Alcohol-Free
ABV: 0.5%
Carlsberg Nordic Ale
Beer Type: Alcohol-Free
ABV:
0.5%
Carlsberg Nordic Gylden Bryg
Beer Type: Alcohol-Free
ABV: 0.5%
Carlsberg Smooth Draught
Beer Type: Pilsner
ABV: 4.8%
Carlsberg Smooth LagerBeer Type:
Pale Lager
ABV:
4.5%
Carlsberg Sort Guld
Beer Type: Strong Pilsner
ABV: 5.8%
Carlsberg Special Brew

Beer Type: Strong Pilsner
ABV: 8%
Read more about Carlsberg
8. Tuborg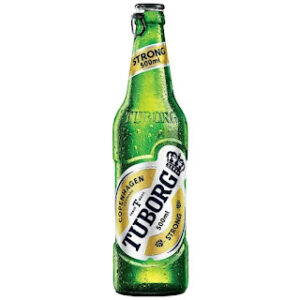 The name Tuborg comes from Thuesborg a Copenhagen inn from the 1690s situated in the area of the brewery. Tuborg is a Danish brewing company founded in 1873 on a harbor in Hellerup, an area North of Copenhagen, Denmark. Since 1970 it has been part of the Carlsberg Group. The brewery's flagship, the Tuborg pilsner, was brewed for the first time in 1880. Tuborg has many variants, Tuborg Red was the first beer brewed by the company, in 1875
Country of origin: Denmark
Available variants
Tuborg Green
Beer type: Lager
ABV: 4.6%
Tuborg Christmas beer
Beer type: Seasonal Brews, European Dark Lager
ABV: 5.6%
Tuborg Gold
Beer type: Strong Pilsner
ABV: 5.8%
Tuborg Red
Beer type: Pilsner, Seasonal Brews
ABV: 4.3%
Tuborg Fine Festival.
Beer type: Strong Pilsner
ABV: 7.5%
Read more about Tuborg
9. Staropramen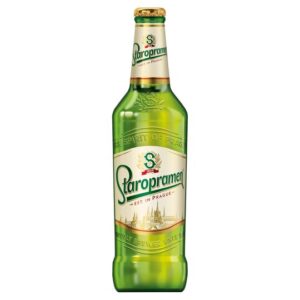 Staropramen is the second largest brewery in the Czech Republic, It was first produced in 1869, and the brand name Staropramen, literally meaning "old spring", was registered in 1911. It is owned by Molson Coors and its products are exported to 37 different countries. Staropramen Granat goes well with Sandwiches with rucola and mozzarella, and Thai chicken skewers.
Region: Pilsen, Czech Republic
Available variants
Staropramen Premium
Beer type: Light lager
ABV: 5%
Staropramen Dark
Beer type: Dark lager
ABV: 4.4%
Staropramen Granat
Beer type: Semi-dark lager
ABV: 4.8%
Staropramen Granat
Beer type: Semi-dark lager
ABV: 4.8%
Staropramen Unfiltered
Beer type: Unfiltered light lager
ABV: 5%
Staropramen Non-Alcoholic
Beer type: Non-alcoholic beer
ABV: 0.49%
Praha by Staropramen
Beer type: Smooth pilsner lager
ABV: 4%
Read more about Staropramen
10. Hoegaarden

Hoegaarden is a brewery in Hoegaarden, Belgium, Hoegaarden monks were the first to discover the unique recipe for wheat beer around 1445. Hoegaarden became one big brewery in the 18th century. In 1709, the village had no less than 12 breweries. In 1726, that number had increased to 36.
Hoegaarden goes well with Salad with citrus dressing, Grilled white fish, Ginger tofu, Guacamole, Sausage Roll Coleslaw.
Country of origin: Belgium
Available variants
Hoegaarden white: Hoegaarden White is the original Belgium wheat beer, First brewed in 1445, Hoegaarden is a wheat beer spiced with coriander and orange peel. It is unfiltered and therefore has a cloudy appearance. In many bars, it is customarily drunk with a slice of orange or lemon. It has an alcoholic content of 4.9%.
Hoegaarden Rosée: Infused with raspberry flavors, it is a slightly sweet and refreshing treat for the summer month, Launched in 2007, 3% ABV. Available in the Benelux.
Hoegaarden Citrus: The classic Hoegaarden wheat beer infused with citrus essence. Launched in 2008, 3% ABV.
Hoegaarden Forbidden fruit: 
Forbidden fruit (French: Fruit Defendu. Flemish: Verboden Vrucht) An 8.5% dark ale, with complex spicing.
Hoegaarden Spéciale: Launched in 1995, 5.7% ABV. Hoegaarden Spéciale is a full-bodied, rich Belgian-style wheat beer, available from October to January.
Read more about Hoegaarden
11. Leffe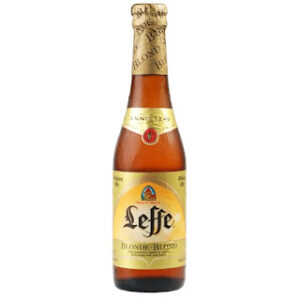 Leffe is a premium beer brand owned by InBev Belgium, the European operating arm of the global Anheuser–Busch InBev brewery giant. There are several beers in the range, and they are marketed as abbey beers. They are brewed in large quantities and are widely distributed. The abbey of Leffe was founded in 1152 on the river Meuse in the province of Namur in southern Belgium. Like many monasteries across Europe, the Premonstratensian (Norbertine) canons of the abbey brewed ale, starting in 1240.
Country of origin: Belgium
Available variants
Leffe Blonde: Leffe Blonde is an authentic blonde abbey beer with a slight hint of bitterness to it with floral and spice with notes of vanilla and cloves aroma. 6.6 Alcohol by volume.
Leffe Ambree: Leffe Ambree is a double malt beer with an enveloping and decisive flavor, capable of emphasizing different tastes thanks to specially designed hopping. With Spicy with toasted hopped notes and hints of orange peel aroma.6.6% Alcohol by volume.
Leffe Brune: Leffe Brune is an authentic abbey beer. Both its deep, dark brown color and its full, slightly sweet flavor can be ascribed to the use of darkly roasted malt, making every sip exceptional. with Roasted, fruity aroma, Soft and creamy beer with a discreet touch of bitterness and a light taste.6.5% Alcohol by volume.
Leffe Ruby: Leffe Ruby is the first abbey beer ever to be combined with red fruit. It is light, mild, and very aromatic, with a refreshing and slightly spicy flavor. The subtle hints of rosewood make this a perfectly balanced beer. Spicy (clove), fruity (raspberries, strawberries, citrus), floral, aroma. 5% Alcohol by volume.
Leffe Triple: Leffe Triple is an authentic blond abbey beer full of character that experiences a secondary fermentation in the bottle due to the presence of yeast. Its flavor is robust and refined. Spicy and fruity aroma, Leffe Triple reveals a rich, sophisticated taste. 8.5% Alcohol by volume.
Leffe Rituel 9 °: Leffe Rituel 9 ° is produced with additional hops that give it a long and intense aftertaste: for this reason, tasting it is a real ritual, with Touches of clove and vanilla aroma. 9% Alcohol by volume.
12. Anchor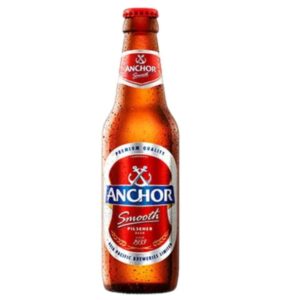 Anchor is America's first craft brewery, with roots dating back to the California gold rush. operating a brewery on Potrero Hill in San Francisco, California. The brewery was founded in 1896 and was purchased by Frederick Louis Maytag in 1965, saving it from closure. It moved to its current location in 1979. It is one of the last remaining breweries to produce California common beer, also known as Steam Beer, a trademark owned by the company.
Country of origin: United States
Available variants
Anchor Steam: Launched in 1896, American Steam beer style beer, 4.8% ABV.
Anchor Small: Launched in 19997, small beer, a 3.3% Small beer ABV.
Anchor Liberty Ale: Launched in 1975, American pale ale style beer,  5.9% ABV
Anchor Porter: Launched in 1972 porter style beer, 5.6%ABV
13. Brooklyn lager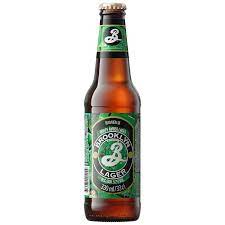 Brooklyn Brewery is a brewery in Brooklyn, New York City, United States. It was started in 1988 by Steve Hindy and Tom Potter. Brooklyn Lager unites flavors of toffee, toast, and caramel with a dry-hopped aroma full of grapefruit, flowers, and pine. Whether it's in your favorite pint glass, a trusty bottle, or a versatile can, Brooklyn Lager is the beer for the job. If you're looking for the dry-hopped amber lager that changed the world, look no further.
Country of origin: Brooklyn, New York U.S.
Available variants
Brooklyn Lager:  Vienna Lager
Brooklyn American: Ale American Pale Ale
Brooklyn Brown Ale:  American Brown Ale
East India Pale Ale: India Pale Ale
Brooklyn Pilsner:  Pilsner
Brooklyn Defender IPA:  India Pale Ale
Hecla Iron Ale:  Dark Ale
Brooklyn Blast!: Double IPA
Brooklyn Greenmarket: Wheat Weisse
Scorcher IPA: Session IPA
Brooklyn Brewery 1/2 Ale: Saison
Sorachi Ace Farmhouse: Saison
13 best beer brands in the world PDF download